cost optimization services
IMPROVING TOTAL OPERATING EXPENSE 3%-5%
Facilities & Non-Clinical Operations
GlideNet's process begins with a Value Assessment either through a Triage Analysis or a GAP Assessment of the Facilities & Non-Clinical Operations. Working with management, GlideNet supports creating the implementation road-map enabling quantification of resource requirements and anticipated return.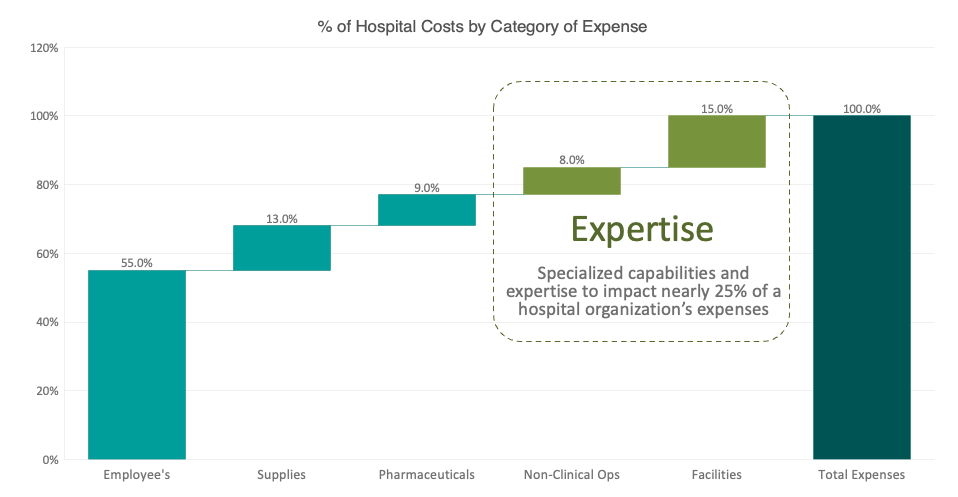 COMPRESSING THE LEAD TIME TO VALUE
We then look to management to determine if the overall program supports the organization's strategy, business and capital funding priorities. If such determination is made, management must determine how projects within the program are to be implemented and managed.
Time compression in the implementation of a program is key to driving an improved rate of return. With the implementation cost held constant, there is an enormous difference of creating $100M in savings in 2 years verses 5 years. This is where dedicated program resources focused on the objectives create accelerated impacts
90-120 day on-site analysis on 25 primary service lines
Holistic optimization program approach
Objective to identify a comprehensive cost reduction program that meets < 3-year simple payback
30 day virtual analysis on 8 easily implementable tracks
Jumpstart to savings program
Objective to identify 10% of a comprehensive cost reduction program